The New Hampshire Coalition for the Support of Service Dogs is holding their first ever benefit at Roger's Pizza in Dover on Saturday, August 3!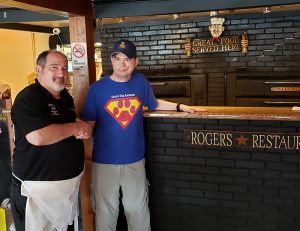 Join us for some great food, items for sale from Sweet Meadows Flower Shop, and present a ticket to your server and Roger's will donate 15% of your bill to NHCSSD. This event runs all day long and is also applicable for delivery and takeout orders!
Roger's Pizza was an early member of NHCSSD, and owner Mike Tsopas has been one of our most supportive members. THANK YOU, Pizza Mike, for your support!
DATE: Saturday, August 3, 2019
TIME: Noon – Midnight
LOCATION: Rogers Pizza
869 Central Avenue, Dover, NH
---
Share this event: