Meet Alyssa LaFoe and her service dog Basil!
Basil is a 2 year old golden retriever. Alyssa has had Basil since he was 8 weeks old. Basil's trainer, Kelly Bourgeois from Doggonit Training, evaluated the litter and picked Basil out for Alyssa based on her needs. Basil is a psychiatric service dog and aids Alyssa with many tasks. He knows direct pressure therapy and crowd control, he alerts/intercepts behaviors, and his favorite tasks are his grounding techniques. Alyssa cannot imagine life without Basil by her side.
Basil has recently gone through many different medical challenges. In September, he developed a 2 inch mass overnight. Basil needed to have surgery to remove the mass. The biopsy thankfully came back as benign and Basil began recovery.
One month into recovery, Basil developed a new set of symptoms. Alyssa had to bring Basil to the ER vet where he had blood tests run, abdominal x-rays, and was referred for additional tests. Basil has recently undergone an abdominal ultrasound and his GI panel has been sent for evaluation. We are still trying to determine the cause for this episode but Basil is finally on the road to recovery.
Alyssa is very appreciative of all NHCSSD has done to help support Basil's surgery and recovery. Basil's favorite activities include: hiking, playing fetch, playing with his toys, and eating yummy snacks. He loves to make "piggy" noises to get everyone's attention and is one goofy boy. Alyssa is looking forward to Basil feeling 100% himself.
Your donations help us support service dogs like Basil. Thank you!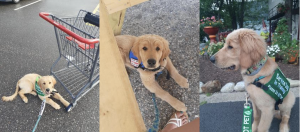 ---
Share this story!